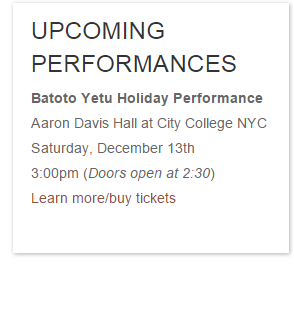 At-risk youth require an inner strength to achieve success, a drive that cannot come from academics alone. Engaging children with their own African heritage through dance, music, and folklore promotes a more holistic form of education and one that makes great contributions to the confidence, character, and academic success of children.
Mission
Batoto Yetu (Swahili for "Our Children") engages inner city youth in African dance, music, and folklore within a caring community of talented artists and volunteers. Dedicated to fostering self-awareness, self-esteem, and the creative and social development of children through dance, our organization introduces African culture through our Africa in the School Residency, our Pre-Professional Training Program, and public performances. Staying in school and off the streets, 98% of our participants move on to college-level study.
Organizational Background
In 1990, while teaching African dance to adults at the National Black Theater, internationally acclaimed dancer and choreographer Júlio T. Leitão noticed children routinely watching from the sidelines. In their enthusiastic faces, Julio realized the allure of African dance and the rhythm of the drums was a compelling force — one that could motivate disadvantaged children in their formative years. One week later, Batoto Yetu made its modest start with seven children in a playground in Harlem. Within one month, donning self-made costumes, the group performed on Staff Day at the United Nations, receiving a standing ovation. A fixture in Harlem, Batoto Yetu incorporated as a 501(c)(3) not-for-profit organization in December of 1991 and has since grown to serve thousands of New York City children. Through the performing arts, Batoto Yetu has witnessed the transformation of shy and withdrawn children into assertive and outgoing leaders and young adults.